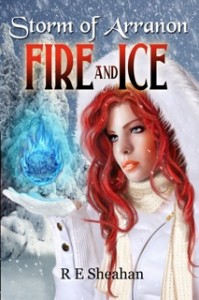 Title: Storm of Arranon: Fire and Ice
Author: R. E. Sheahan
Subject: Fiction
Release Date: Available Now
Reviewer: Krystal Rinyu
R. E. Sheahan's Storm of Arranon follows Captain Erynn Yager. Erynn, an Interceptor pilot from the planet of Korin, is also the adopted daughter of one of the planet's most respected generals. Erynn keeps secrets beyond those regarding her true lineage and her mysterious powers. And when a dark force suddenly becomes active once again, Erynn finds herself wept into a war to prevent the annihilation of the planets.
This science fiction story follows many of the genre standards with a clear good-versus-evil storyline. However, the details and the characters are well drawn and very engaging – keeping those pages turning up until the very end. Sheahan blends just the right amount of description that allows the reader to visualize the story, without too much detail that distracts from the overall plot. The novel flows smoothly, with a near-perfect balance between the plot and the action.
This is a quite polished debut and well-executed. Each character – both supporting and main – grows and matures throughout the course of the book, making them relatable and sympathetic. Sheahan also pays attention to the smallest details in creating her worlds of Arranon and Korin. She not only peoples them with realistic and lifelike characters, but she also describes native animal species, and unique landscapes to make this an enjoyable world to become immersed in. This is an impressive debut and luckily one that ends satisfyingly, but with enough room to build a series. It is a well-blended novel and one that will appeal to both teen and adult readers of the science fiction and fantasy genre.