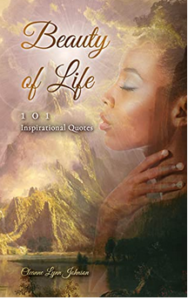 Title
: Beauty of Life: 101 Inspirational Quotes
Author: Cleanne Lynn Johnson
Subject: Motivational/Spiritual
Release Date: Available now
Reviewer: Chelsea Burdick
Beauty of Life: 101 Inspirational Quotes by Cleanna Lynn Johnson provides readers with a collection of inspirational and motivating quotes that the author wrote during the Covid-19 Pandemic, a time when so many needed a little bit of hope. The beginning of the book contains a blurb with Johnson's purpose stating that she hopes her readers find "peace, joy, and happiness in these words of encouragement." Johnson shares her own knowledge she has gained through some of life's lessons to encourage and inspire others during a time period that felt like the end for so many people.
The manuscript is quite clean and free of any grammatical errors. It has clearly been well proofread and edited. The writing style comes across as intelligent and reasonable. The quotes and their meanings are clear and easy to understand. The quotes also maintain a positive nature throughout the book. Many of the quotes are also religious in nature.
The manuscript is also very attractive. Illustrations and backgrounds work with encouraging quotes to provide a book that is both visually pleasing and encouraging. Readers will appreciate the variety found within the pages of Beauty of Life: 101 Inspirational Quotes. This collection of quotes is brief and easy to read. They would be perfect for readers to read one a day to add encouragement to their lives.
The intended audience is most likely a mixture of people who are looking for encouragement in their daily lives as well as those who are looking for religious inspiration. Events such as the Covid-19 Pandemic can take a toll on the mental, spiritual, and religious health of individuals and Johnson has created a collection of quotes that can inspire and motivate people through not only their daily events but other events that are similar to the Covid-19 Pandemic.
Overall, Beauty of Life: 101 Inspirational Quotes by Cleanna Lynn Johnson is a wonderful collection of encouraging quotes that share the love and hope of the Lord and provide encouragement to all readers. They are a perfect collection of quotes to read daily for encouragement and reminders of the power and love of the Lord
---