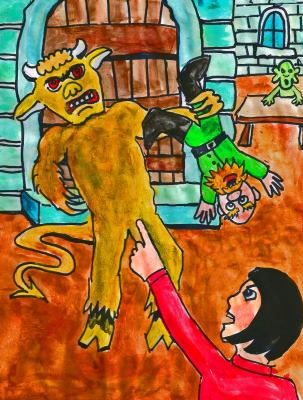 Author
: RJ Ward
Title
: The Bully and the Leprechaun
Subject: Fiction
Release Date: Available now
Reviewer: Rebecca Ross
In The Bully and the Leprechaun, Gilbert and Jade are best friends that live in the quiet village of
Dingley Dell between rolling hills and the rolling sea. Not much happens in their hometown, so
the pair must make their own adventure.

As many best friends are, Gilbert and Jade are opposites. Gilbert believes in science and
empirical evidence, while Jade believes in magic and things that cannot be seen. One day they
have a fight and Jade storms out, determined to prove to Gilbert that fairies do, in fact, exist.
As she climbs to the top of a magical tree in pursuit of magical creatures, Jade is faced by the
town bully who causes her to fall.

When Jade wakes up she finds that she has very nearly crushed a small leprechaun! The two
become instant friends and he vows to help her find her way back home. Together they travel
across a rainbow to a dark and magical place where Jade is able to finally defeat a bully once
and for all. When she returns, she tells Gilbert of her adventures and wonders if he truly
believes her. Of course, her little fairy friend may help make her case.

Author R.J. Ward does a wonderful job of pulling young readers in with his easy, flowing style
and touches of whimsy and humor. Did you know that the violet part of a rainbow tastes of
tuna fish? Jade didn't either. Patrick the leprechaun is quite charming, as are the illustrations
that depict the various adventures he and Jade have.

The theme of bullying is a common one in children's literature and also, unfortunately, a
necessary one. It is nice to see a young female character defeat her bully without fighting,
while at the same time staying true to her own mission which, in this case, is proving the
existence of magic to her cynical friend Gilbert.

The Bully and the Leprechaun is a charming story that will capture young readers with fun
characters and exciting adventures. And if you're an adult, it might just make you believe in
magic again.