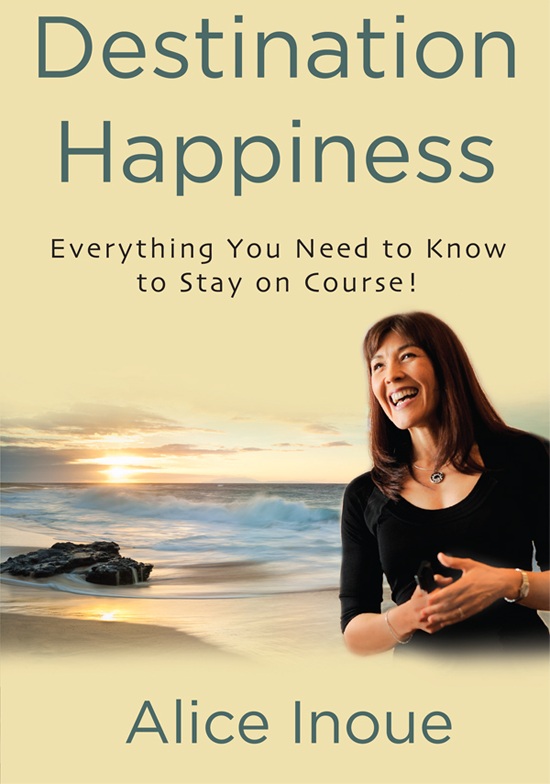 Title: Destination Happiness: Everything You Need To Know To Stay On Course
Author: Alice Inoue
Subject: Non-fiction
Release Date: Available Now
Reviewer: Maria Josey
Destination Happiness: Everything You Need To Know To Stay On Course is a new self-help book by Alice Inoue. The book's focus is to provide answers to that elusive question, "Why can't I be happy?" Inoue takes an appealing approach to the topic, using the "car and road" theme to illustrate common issues and concerns. She highlights various dangers and warning signs, and provides wonderfully easy-to-read (and even easier to implement) suggestions on how to improve your outlook and bring more happiness into your life.
While there are quite a few self-help books on the topic, Inoue writes 12 well organized chapters that address common issues like avoiding distractions, learning to say no (as well as yes), and doing away with regret and guilt. She maintains her car and driver theme consistently and the extended comparisons work very well. In addition to providing probing questions and a unique outlook on each topic, she also provides real-life examples that illustrate her story. For books within the genre, this one makes points that go beyond recognition of behaviors, but helps inspire easy changes that will result in bigger leaps on the journey to a happier life. The solutions don't come from external sources, but rather, from inner reactions to those low-points in life that we all encounter. Perception is everything, and adjustments in how we look at life can alter the outcomes. Alice Inoue helps readers see that, and it is easy to see that others will benefit from her teachings. Whether a person's unhappiness comes from problems in relationships or the stress of overwhelming to-do lists, there is a chapter for everyone in this book. While it may be a little light for those who have been under more traumatic black clouds (like job loss, death, disease, etc.), this provides a good starting point and offers a few course corrections that will hopefully provide enough hope to seek additional help and advice.
The book is well-laid out, and the sub-headers in each chapter make for convenient highlighting of the parts that you'll want to refer to again and again in the future. Consider this your happiness guidebook, and enjoy the journey it takes you on. Once you're on the right path, there will be no looking back!