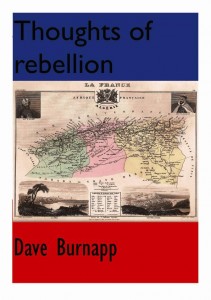 Title: Thoughts of Rebellion
Author: Dave Burnapp
Subject: Fiction
Release Date: Available Now
Reviewer: Charles Franklin
Thoughts of Rebellion blends together history, intrigue, interweaving plot lines, secret societies and plenty of action. Reminiscent of Dan Brown's The Da Vinci Code, Burnapp's story central character is more sympathetic than Brown's lone professor. Joe is above all else, a family man. When his family becomes entangled in a web of intrigue, Joe must desperately try to regain his happy life. The addition of family drama adds a stronger emotional attachment to the characters and their situation. The characters are very relatable – and with a wide variety of both characters and cultures, a reader is bound to identify with some characters more than others.
What really shines here is the storyline. Despite the large cast of characters and the various locations, Burnapp maintains the focus on Joe in his attempt to change Fate. The Islamic and Algerian cultures are presented thoroughly here, and the timeline that spans over the course of many years adds even more richness to the story. With Burnapp's extraordinary attention to detail – both from the historical standpoint and in the physical imagery – it is easy to become swept into the drama. Joe is a very sympathetic character, but others come to life as well – particularly Ahmed. There are some emotional reactions to be had here, too.
Unfortunately, with the author's penchant for long sentences, some of the excitement and dramatic tension can be lost. The rather rough transitions between some of the chapters slow down the overall pacing, as well. The awkward introductions to some of the subplots add to a lessening of the immediacy of the plot. There are a lot of dramatic swings leading up to the conclusion, but the conclusion itself feels slightly at odds with where the story seemed to be heading. There is a lot going on in under 300 pages! And with the combination of family drama, historical detail, political intrigue and plenty of action, Burnapp's complex debut novel should appeal to a wide audience.